I spent three months testing the Future app and it is exceptionally different from other workout apps.
At some point during the pandemic and lockdown my wife and I bought a Peloton bike and I was instantly hooked. I was amazed by the trainers and the motivation they convey. I learned to appreciate the change in pace (pardon the pun) of the different courses and programs on offer. Finally we ordered the Peloton Tread and we were all in.
After receiving the shipment, I started doing some of the available hikes, walk/run courses, and even jogs. I was training to compete in a Spartan race with a friend of mine and I was determined to have the stamina to finish it without running any part of the course.
As the weather warmed up, I took to the sidewalk for a run. It was something I had never really done before, and as it turned out, that fateful April afternoon was the last time I would go running. You know, I hurt my knee on that run.
Over the next few months, I followed my doctor's orders: lots of rest, anti-inflammatories, and lots of ice.
I went from 5 to 7 workouts a week to doing nothing. It was brutal, physically and mentally. Every time I tried to get active again, my knee would flare up and I had to reconsider the doctor's orders. I did not know, what I should do.
Then last vember I was approached about trying Future.co. After some back and forth, I decided that having access to a personal trainer could be a great help, who could hopefully support me in being both active and aware of an injury. I was offered a three-month trial of Future, which costs $149 per month, and started using it right away.
Spoiler alert: It was one of the best things I've ever done.
Future (from $49 per month, originally $149 at Future.co)
Choosing a trainer
Future
The initial sign-up process for Future involves going through a short questionnaire that asks you about things like your current fitness level, your goals, what you expect from a personal trainer, and what motivates you when you slip (eg: have a gentle touch or being very bossy) and whether you have any previous injuries. Overall, the survey took me about 5 minutes.
Once the survey is complete, you will be presented with a list of trainers, with the service's best choice for you highlighted. You can go through all the suggestions if you wish and read their story, biography and general approach to help you achieve your goal.
After selecting a trainer, you'll be asked to enter some additional information about what type of equipment you have access to, whether you use it at home or at the gym, and how much time you have to exercise.
w you can complete the initial sign-up process through the website, but after that, all your interactions with your trainer - including workouts - will be handled in the iPhone or Android app.
Finally, you'll be asked to schedule a 15-minute video call with your trainer to discuss your training schedule, limitations, and equipment. This is also how you get to know each other.
It's time to get to work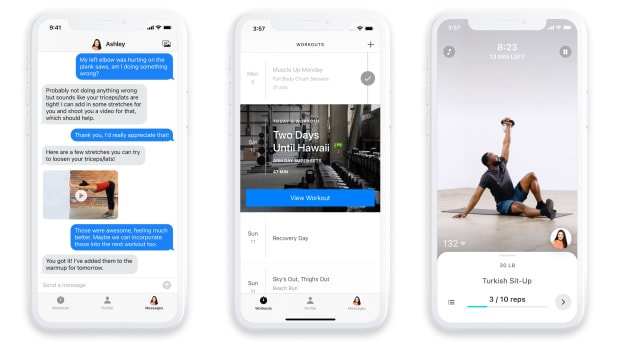 Future
Once the onboarding process is complete, your coach will create a training plan for you. Each week's schedule is posted on Sundays, giving you plenty of time to ask questions, view the different exercises, and contact your trainer via the app's built-in chat feature.
Each training has an introduction from the trainer, giving some insight into what you are working on and what to expect. in my experience, there were often a few words of encouragement.
Before you start exercising, you can look at each individual exercise you will perform and watch a video demonstration with audio guidance on how to perform this movement.
Most of my workouts consisted of starting with a quick warm up on the bike, then various bodyweight or resistance band based movements, followed by stretches at the end of the workout.
Before you start training, you have the option to stream different music categories from the Future app. At the end of my time testing the app, support for Apple Music and Spotify was added so you can use your own playlists.
When I first started using Future, the service was only available on the iPhone for Apple Watch users. However, the service has since added support for select Google WearOS watches (Google Pixel Watch, Samsung Galaxy Watch 4, Samsung Galaxy Watch 5, and Montblanc Summit 3.). Either way, that's an important part of the equation, and you have to use future.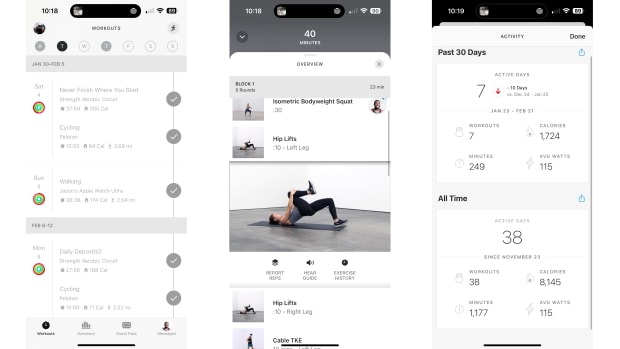 Future
The app on the Apple Watch lets you view your exercises, and if there's a rep component, you can quickly tap a button on your watch to go to the next step.
If you're using an iPhone to start your workout, you can AirPlay the workout to a compatible nearby device, essentially allowing you to cast it from your phone to a TV or other larger-screen device. This is how I primarily viewed my workouts and used my watch for additional controls.
A few months after Future was tested, the Android version of the service was released, but it's not a full copy. Having used the iPhone and Apple Watch counterparts, I was disappointed that I couldn't transfer the workout to another device for a big-screen experience, and the WearOS app was very basic. You could see your heart rate and nothing else. You couldn't use controls to get to the next moment once you finished your reps; it was as simple as it could be.
At the end of each workout, you'll get a summary of your heart rate and calories burned, and a prompt to share your thoughts on the workout with your trainer.
Your trainer has full access to the training information recorded on your smartwatch, even if it is an off-app training. For example, I had made it a habit to do a yoga workout or go for a walk outside on my "days off" just to keep moving. After each recorded activity was completed, the information was immediately fed into the conversation with my trainer, often leading to additional praise.
Overall, I found the Future app to be easy to navigate and use. Even on the rare occasions when I didn't have an Apple TV nearby to AirPlay my workouts, it was easy to follow the workouts on my iPhone 13 Pro Max. It wouldn't be an ideal way to train if it was my only access, but it has proven useful on a number of occasions.
It's all a mental game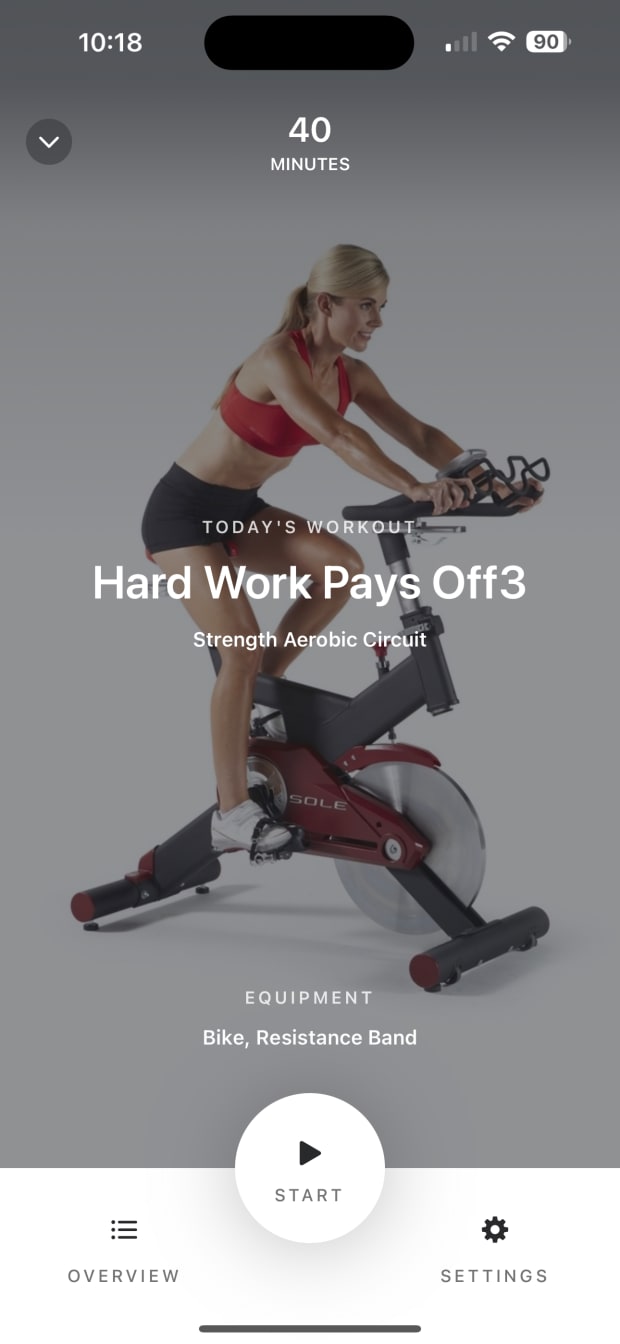 Future
When I started Future, my goal was to get back to a point where I can and want to get active again. The last part of this is arguably the most important.
My coach told me early on that I had to stop negatively evaluating my performance at the end of each workout. I kept telling him that I felt like I should be able to do more. When I got hurt, I definitely did more. I was frustrated. I've kept telling my trainer that I need to figure out how to flip the switch in my brain so I stop thinking of workouts as work and instead think of them as an investment in myself.
About a month later, after an accidental back injury thwarted my initial efforts to start exercising again, I slowly began warming to the idea of ​​exercising more than once or twice a month. Before that I hated every second of it. My body hurt. My mind told me I would do more damage to my knee. I told all this to my coach. In fact, at times I felt like I was talking to a therapist—or at least I could be as honest and open with Glenn as I would be with a therapist.
I shared with him the days I hated the workouts and why, and I also shared my excitement when a workout felt easier than the week before.
There were many days where I would open the app early in the morning to see what my workout should look like and try to convince myself not to. What would be the worst that would happen? Glenn would text me and ask what happened. Cool. I could ignore that. I have often said to myself.
But as the day progressed, as I continued debating whether or not I wanted to work out 45 minutes of my day, I began to feel peer pressure. Knowing that my coach would hold me accountable, even if it was virtual, became a huge motivating factor.
I've even trained in my hotel room on more than one business trip, all because I knew I had to and I didn't want to have that conversation with my trainer.
However, not everything was perfect. And none of this is Glenn's fault. My knee continued to give me (and still does!) trouble even as we worked together to track which movements were causing pain. Eventually we stopped making any movements that put pressure on my knee. And while that part was (and still is) frustrating, I found solace in knowing that I was still moving, still getting healthier, and doing my best.
At the end of my three months at Future, I was again training more days than not each week. The switch in my brain had been flipped once again to exercise and eat right.
Glenn's patience as we worked through various issues and my itinerary was crucial. And while I was the one doing all the work, knowing that there was a real person on the other side of my phone invested in health was a huge motivator.
Conclusion: is the future worth it?
It's been about a month since my Future subscription ended. I decided not to continue, mainly because I already pay for two different fitness services -- Peloton and Apple's Fitness+ -- and it was just too far-fetched to justify another $150 a month.
But I have to admit. I miss it. I miss the responsibility, the daily interaction with a coach and just feeling like someone else is investing in my well being even if I had to pay for it.
In my experience, Future is a fantastic service that can give you the boost you need to get in shape and get moving. Even if, like me, you only use it for a few months. You can complete the questionnaire on Future's website and read trainer recommendations without having to register or provide any payment information.
If sold, Future costs $149 a month, but new subscribers can save $100 the first month and get it for just $49. You also have the option to cancel at any time.
Future (from $49 per month, originally $149 at Future.co)
Prices correct at time of publication and items in stock.